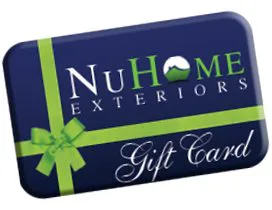 We appreciate your Friends and Family Referrals and invite them to friends and family referral gift cardbecome a part of the NuHome family.
As a means to thank our existing customers for referring NuHome to friends and family members who are planning a remodeling project (new roof replacement, new siding replacement, new window replacement, exterior door replacement, gutter replacement or attic insulation ) in the near future, we are offering you a prepaid gift card for up to $125.00.
HOW IT WORKS
Complete the referral form and submit the required information. We will contact the referral candidate and schedule a meeting to discuss their upcoming home remodeling project and provide a free no obligation estimate.
Once they sign a contract with NuHome and the project has been completed to the customer's satisfaction, we will send you a prepaid gift card within 30 days.
CONTRACT VALUE AND RELATED GIFT CARD AMOUNT
Contract Value Related Gift Card Amount
$2,500-$5,000 $50.00
$5,001-$7,500 $75.00
$7,501-$10,000 $100.00
Over $10,000 $125.00
Some exclusions apply: Not valid for customers who have already signed contracts with NuHome prior to receiving your referral submission. Only one referral will be honored per contract job.
AWARDS AND ACCREDITATIONS
We are a GAF certified Master-Elite Weather Stopper Roofing Contractor. An accreditation held by less than 3% of roofing contractors. We are BBB A+ rated and have received the Angie's List Super Service award for two consecutive years. The Angie's list Super Service Award is an honor given annually to approximately 5% of companies in their respective industries.
Refer your friends and family today to Northern Virginia's exterior home remodeler of choice. Locally owned and operated for the past seventeen years. Serving all of Fairfax, Northern Virginia and Maryland.
TELL YOUR FRIENDS & FAMILY!
We appreciate your recommendations to friends and family member so much; we are offering you a gift card up to $125.00 as part of our friends and family referral program.