CHOOSE THE DISCOUNT THAT RIGHT FOR YOU
Here at NuHome we recognize the commitment and sacrifice of those who are fighting or have fought for freedom, those who educate our children and those who put their lives on the line every day. We are offering the following discounts to make your lives a little easier and to say thank you for your service to our country and community.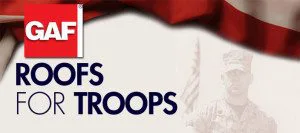 MILITARY, VETERANS AND RETIREES DISCOUNTS
Discounts Page GAF Roofs for Troops logoFrom the GAF Website, "Active U.S. military, veterans, and retirees receive a $250 rebate on a GAF Lifetime Roofing System that includes GAF Lifetime shingles and at least 3 qualifying GAF accessories when installed by a GAF Master Elite™ or Certified Contractor between January 1, 2015 and December 31, 2016." See GAF's promotional page for additional information. GAF Terms and Condition's apply.
NUHOME WILL MATCH THE $250.00 GAF REBATE.
TEACHERS DISCOUNTS – $250.00 OFF ANY NEW ROOF REPLACEMENT.
POLICE, FIREFIGHTER AND EMT DISCOUNTS – $250.00 OFF ANY NEW ROOF REPLACEMENT.
SENIOR CITIZENS DISCOUNTS – $250.00 OFF ANY NEW ROOF REPLACEMENT.
Verification of your status in these honored groups will be required.
REFER A FRIEND OR FAMILY MEMBER
NuHome has a Friends and Family member referral program, for those who don't currently have a planned home renovation project. Take a look at our Friends & Family Referral program.
Please feel free to contact us for additional information on any of the published discounts or the GAF rebate. Our office telephone number is 703-215-9360.
Please note discounts are limited to one per household.
OUR GIFT TO YOU – DISCOUNTS ON A NEW ROOF INSTALLATION!
NuHome believes that discounts are an important part of rewarding our customers. Here is a list of our current offers. Some restrictions apply. Serving Fairfax, Northern Virginia, Maryland and DC.