If your roof has been damaged by weather, fire, or any other disaster, time is truly of the essence. The damage will continue to spread, and in the meantime, your home will be open to the elements, invading animals, and more. You need a fast, professional assessment of the damage so that you can know how to proceed.
Fairfax, VA, trusts NuHome for roof damage assessment and repair! Since 1998, we've provided top-quality roofing services across the area. If your roof has been damaged, give us a call and we'll help speed up the repair of your roof.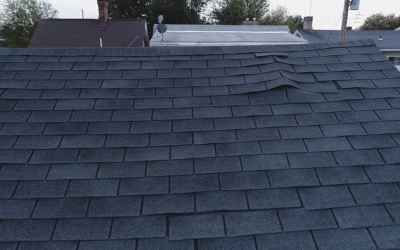 Roof Damage Assessments
Similar to a roof inspection, roof damage assessments are conducted by trained professionals who can quickly and safely document all damage that has occurred. This allows you to know what repairs are needed, and also provides all the documentation you will need to file a claim with your homeowner's insurance company.
Roof damage assessment can also be used when buying or renovating an older home, to understand what the overall cost burden will be.
NuHome can assess numerous types of roof damage, including:
• Hail damage: Even a brief hailstorm can do significant damage to a roof, including knocking off shingles, or potentially even puncturing the insulating under layer.
• Standing water damage: If your roof's drainage is blocked, standing water can eat through the upper layers of the roof and start to make its way into your home.
• Wind damage: Sufficiently high winds can rip shingles off a roof or blow damaging debris such as tree branches into your home. A hard hit can even create holes.
• Ice damage: If ice has been allowed to accumulate on the roof, removing it can easily remove shingles as well. Or, left long enough, it can create depressions in the roofing material from the weight of the ice.
• Fire damage: A home fire that reaches the upper levels has probably also damaged the roof as well, and it needs to be inspected both outside and inside.
If any sort of major damage has occurred to your home from weather, wind, debris, fire, or ice, you should have a professional roof damage assessment done to understand and document any damage done. You'll reduce any ongoing damage to your home and get everything you need to file claims with your insurance to pay for the repairs.
NuHome offers full roof damage repair assessment, repair, and replacement services. Don't allow a damaged roof to go unaddressed. Contact us today to schedule an appointment.