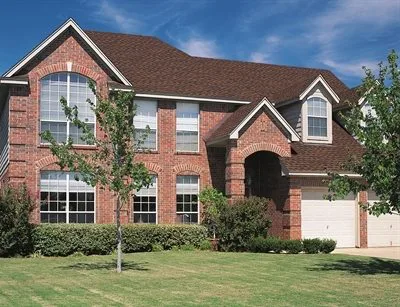 Showcasing GAF Timberline HD Shingle Colors
In addition to their durability and extended warranty, the GAF Timberline HD Shingles available from NuHome Exteriors provide homeowners with a vast variety of color selections. This variation in colors makes GAF Timberline HD shingles an attractive and easy choice for nearly any style of home.
Some of the most popular colors include:
Weathered Wood: Searching for the ultimate neutral color? Weathered Wood is ideal, offering homeowners the perfect match for a variety of different hues.
This color toes the line between warm and cool colors and provides a beautiful natural touch to blend with its surroundings. Some of the colors it pairs best with include cream, ivory, sage, and clay.
Barkwood: This color is perfect for homes in natural surroundings, providing a subtle brown color that matches well with warmer tones like yellow, gold, beige, and cream.
One of the best things about Barkwood is that its tone and texture resembles real wood, making it perfect for homes in wooded surroundings or ones that boast extensive landscaping and hardscaping features.
Slate: One of NuHome Exterior's best-selling GAF Timberline HD shingle colors, Slate provides homes with an exterior finish that's almost identical to the real thing. Designed with a cool gray shade that offers undertones of green, it works fantastically with everything from cream to stone or ivory exteriors.
Hickory: A brown tone offering subtle shades of rich, dark red, the Hickory shingles from NuHome Exteriors make a perfect match for homes built from stone, brick, or terra cotta. It will also bring out any exteriors boasting yellow or gold, providing a classic yet modern appearance many have come to love.
Charcoal: Whether you have a gold, green, yellow, gray, or white exterior, Charcoal works with them all. Known as one of the most truly neutral shades, no matter what design or style your exterior, Charcoal will likely be a fitting match.
It's this versatility that makes the Charcoal GAF Timberline HD Roofing Shingles available from NuHome Exteriors one of our most popular colors.
Patriot Red: Want to go with something a bit more vibrant? Our Patriot Red shingles can boost curb appeal and highlight your exterior's most impressive features. Designed with bold colors to provide contrast to more subtle and light shades, Patriot Red provides homes with a backdrop to natural surroundings a great option.
Shakewood: For those with more neutral or beige/brown exteriors, Shakewood pairs perfectly with such colors. A mix of gold, brown, and tan, these shingles offer a radiant look but aren't overpowering, making them a great match for more subtle exteriors.
GAF Timberline HD Shingles have a heightened shadow effect which creates the desired look of a genuine wood shake at practical asphalt shingle price. The Timberline series is the number one selling shingle in North America. Stain Guard protects your new roof from blue-green algae and is available in most areas.
Contact Us to discuss color availability, product specifications and warranty details.
Fiberglass asphalt shingle
Lifetime ltd. Transferable warranty
Smart Choice® protection for the first 10 years
130 mph ltd. Wind warranty
Listed Class A Fire – UL 790
Passes ASTM D7158, Class H
ASTM D3018 Type 1
ASTM D3161 Type 1, Class F
ASTM D3462 Periodically tested by independent and internal labs to ensure compliance with ASTM D3462 at time of manufacture.
StainGuard® Algae Discoloration ltd. Warranty (available in most areas)
Energy Star Qualified (white only)
ICC Approved
CSA A123.5-98
Approximately 64 Pieces/Sq.
Approximately 3 Bundles/Sq.
Approximately 256 Nails/Sq.
5 5/8″ exposure
GAF TIMBERLINE HD SHINGLES COLOR OPTIONS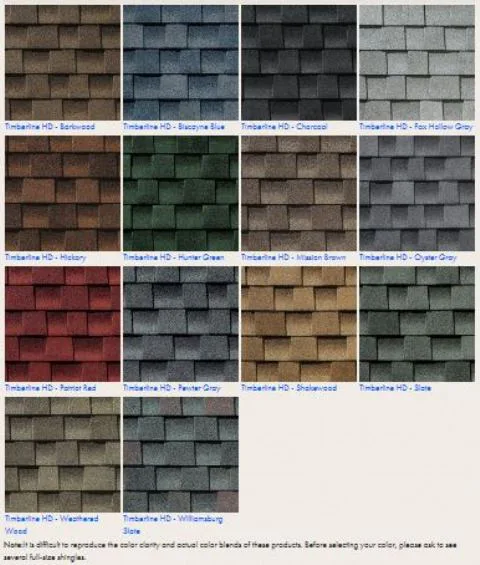 Frequently Asked Questions About GAF Timberline HD Shingle Colors
What colors do GAF Timberline HD Shingles come in?
GAF Timberline HD Shingles typically come in warm and neutral colors, designed to match with the widest variety of home exteriors. The majority of the colors are variations on gray, gold, and brown, including woodgrain options, as well as darker greens and light blues. There's a GAF Timberline HD Shingle that should look great on any home!
What is the most popular GAF Timberline HD Shingle?
"Most popular" is hard to gauge objectively, but in our experience, the GAF Timberline is the type of shingle people pick most often. GAF themselves also cite the Timberline HDZ as their best-selling shingle. Timberline HDZ shingles feature LayerLock technology for tight fits, StainGuard color protection, as well as additional Algae Protection to further guarantee a long, beautiful life.
Which is better, Timberline HDZ or Timberline AH?
The Timberline HDZ and AH shingles are quite similar. They both feature GAF's proprietary StrikeZone nailing area, which reduces the time needed to install them, as well as StainGuard Plus protection against discoloration and algae damage. The primary difference is simply in the styling of the two types. HDZ shingles come in a wider variety of colors as well.
What is the difference between GAF Natural Shadow and HDZ?
The short version is that HDZ could be seen as an upgraded version of Natural Shadow. Both feature designs that mimic the look of real wood, self-adhesive seals, and protection against wind and fire. However, HDZ offers a better overall look and thicker construction for more durability.
What class are GAF Timberline HD Shingles?
Shingles are classified based on their wind resistance and fire resistance. There are numerous categories for each. Timberline shingles, specifically, have a Class A fire-proofing rating, which means they can withstand direct contact with a flame for extended periods without igniting themselves. They also have a wind resistance rating of 130mph, making them proof against virtually any natural winds up to a Cat-3 hurricane or F1 tornado.
Are GAF Timberline HDZ shingles hail resistant?
Yes! Timberline HDZ shingles are designed to be hardy and stand up to almost any reasonable impact damage a home is likely to suffer. Should you need more protection, or live in an area where hail storms are common, GAF also offers ArmorShield shingles which are even more damage-resistant.
Frequently Asked Questions About GAF Timberline Shingle Colors
GAF SHINGLES – TIMBERLINE HD
GAF Timberline HD shingles have a heightened shadow effect which creates the desired look of a genuine wood shake at practical asphalt shingle prices.