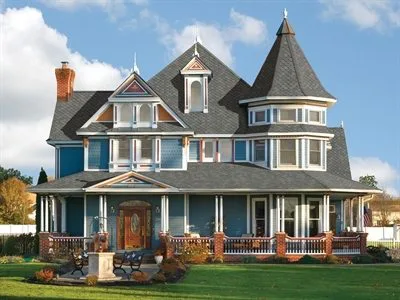 Do you have your eye set on standard architectural roofing shingles for your home but don't want to spend an arm and a leg? Well, the GAF Sienna Shingles available from NuHome Exteriors make an attractive alternative. That's because they're designed to reflect the old-world sophistication and durability of architectural shingles at an affordable price.
Add a luxurious roofing solution to your home's exterior for a fraction of the price with the GAF Sienna Shingles from NuHome.
Superior Design
Just because they're not as expensive as traditional slate shingles, it doesn't mean the GAF Sienna line doesn't boast superior design. These shingles were constructed to last a lifetime, which is why they also come bearing GAF's Lifetime Guarantee equipped to all their high-quality shingles.
The GAF Sienna Shingles from NuHome Exteriors are:
High-Performance: GAF's Advanced Protection® Shingle Technology enables homeowners to equip their home with a roof replacement option that uses fewer natural resources, reducing their environmental footprint.
Wind-Resistance: No matter what mother nature throws at these shingles, GAF's Dura Grip™ technology makes installation easier and protect homeowners from shingle blow off in winds of up to
StainGuard® Protection: With a limited warranty and StainGuard® Protection you'll never have to worry about replacing your roof due to damage or discoloration from unsightly blue/green algae.
Other innovative features include:
Listed Class A Fire – UL 790
CSA-A123.5
ASTM D3018, Type 1
ASTM D3161, Type 1, Class F
ASTM D3462
ASTM D7158, Class H
Classified in accordance with ICC ES AC438
Unique Color & Design
The GAF Sienna Shingles available from NuHome Exteriors are designed with clean, distinctive lines to directly mimic those of slate or wood shakes. They also boast artisan-crafted shapes to provide a depth unmatched in the industry.
Their unique color palette is another factor that makes these shingles one of NuHome's most popular roof replacement materials. Some of the most exciting colors available include blends such as:
Chateau Gray: This dark gray color is refined and provides a great roofing option for homes of nearly any exterior color and design.
Aged Oak: Just like a canopy of ancient oak trees, this brown blend is perfect for homes with earthier tones that want to highlight their natural surroundings.
Harbor Mist: Underscored with shades of blue and green, the GAF Sienna Harbor Mist Shingles make a great addition to exteriors in shades of blue, green, or grays.
Heirloom Brown: Searching for something dark and deep? Heirloom Brown recalls dark chocolate and cinnamon hues, which match well with nearly any lighter color or exterior design style.
Sienna® Shingles are a impressive substitute to standard architectural shingle. With their unique diamond shape, GAF Sienna Shingle Layers provides a touch of Old World sophistication to any home. Affordable Luxury with a sophisticated design.
Contact Us to discuss color availability, product specifications and warranty details.
Listed Class A Fire – UL 790
CSA-A123.5
ASTM D3018, Type 1
ASTM D3161, Type 1, Class F
ASTM D3462
ASTM D7158, Class H
Classified in accordance with ICC ES AC438
GAF SIENNA SHINGLES COLOR OPTIONS

GAF SHINGLES – SIENNA
GAF Sienna Shingles an affordable alternative to cedar shakes and slate. Old world charm and sophistication and GAF's lifetime warranty.