ROOFING CONTRACTOR SERVING RESIDENTS IN ALEXANDRIA, PRINCE WILLIAM COUNTY, STERLING, GAITHERSBURG, AND BOWIE JUST TO NAME A FEW.
As a prominent residential roofing contractor who has installed thousands of residential roofs in the Washington Metropolitan area, we understand the important role a roof plays in both the aesthetics of your house and its overall protection of your home and family. A roof is not just a set of shingles that covers the top of your house, it is a roofing system that works to safeguard your home from the elements, reducing heating and air conditioning costs, and providing curb appeal.
HOW DO I KNOW WHEN IT'S TIME TO CALL A RESIDENTIAL ROOF REPLACEMENT CONTRACTOR?
As homes age, they need to be updated. Contributing factors that are indicators that you need a new roof include age, the original quality of roofing materials, exposure to harsh elements, and poor maintenance. There are several telltale signs you need to call a residential roof replacement contractor:
Missing, torn, curled, or lifting shingles
Rusted or missing flashing around chimneys, skylights, or vent pipes
Roofing debris in gutters, downspouts, and splash pans
Interior water staining and leaking near the roofline
Drywall or paint discoloration or crack
AFFORDABLE RESIDENTIAL ROOF REPLACEMENT SERVICE OPTIONS
While in some cases minor repairs can prolong the life of your roof, it is important to work with a certified roofer that can evaluate the situation and give you all your roof replacement options. There are numerous roof shingle manufacturers available. NuHome Exteriors installs GAF Shingles, CertainTeed roofing shingles, and Owens Corning, unlike some of our competitors who only install shingles from one manufacturer.
FREE NO OBLIGATION ROOF REPLACEMENT SERVICE QUOTES FROM A LOCAL CONTRACTOR
When you're evaluating professional roofers, contact NuHome in Fairfax, VA, for a free, no-obligation estimate and the opportunity to compare roofing shingles and discuss affordable roofing options.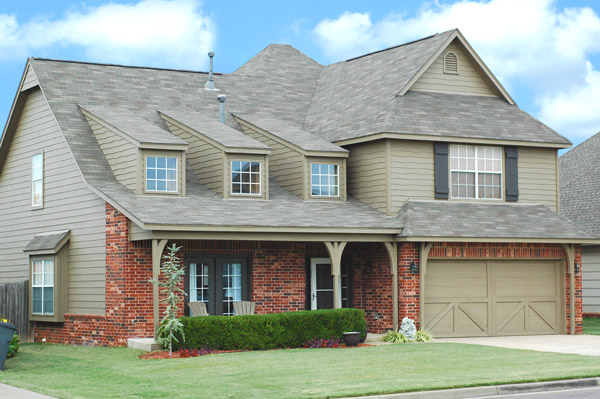 CERTIFIED RESIDENTIAL HOME ROOFING CONTRACTOR
We are one of the few local roofers who is certified as a GAF Master Elite Weather Stopper installer, GAF Certified Green Roofer and Owens Corning Preferred residential roofing contractor in the Northern Virginia and Maryland area. What that means to you is that as a certified roofer, we constantly train in the latest residential roofing techniques so that we can give you the most detailed information while simplifying the process.
OUR PROFESSIONAL WARRANTIES
We pride ourselves on being the best residential roofing contractor in the Fairfax, VA, and Maryland area. That's why with every roofing project completed, we provide a non-prorated warranty for the lifetime of the shingles. Non-certified residential roofing companies cannot offer you this long-term warranty, which gives our customers the peace of mind that we stand behind our work.
OUR AWARD-WINNING RESIDENTIAL ROOFING CONTRACTOR SERVICES
When searching for a residential roofing contractor what do you think the phrase means? Is it a company that just replaces the shingles on your roof? A residential roofing contractor is so much more.
A professional roofing company will give your roof a thorough inspection to determine if your roof decking is rotten or damaged and advise you, the homeowner that part of the roof replacement process will require new decking. This is a very important part of any residential roofing system.
The contractor will also evaluate your home's attic ventilation and will make recommendations for proper ventilation based on your home's roof design. This is a necessary step and will help identify the full scope of the project. Poor attic insulation is the number one reason for premature roof failure.
WE ARE CERTIFIED, LICENSED AND INSURED
There are many self-proclaimed professional roofers who aren't certified by the roofing manufacturers whose products they install. As a homeowner, you will be faced with the decision of who to hire to replace your roof. Our best possible advice is to hire a roofing contractor with experience who is certified, licensed, and insured for the proper installation of your home's roofing system. We've received calls from homeowner's who hired a cheap residential roofing contractor only to regret their decision.
REASONS TO HIRE NUHOME FOR RESIDENTIAL ROOFING SERVICES
We Inspect – During our free no-obligation estimate we thoroughly inspect your home's roof so that we can give you a comprehensive assessment of the situation and provide you with the best possible solution. We will never sell you something that you do not need.
We Educate – Our knowledgeable project consultants will explore with you what a roofing system is, material options available, and styles that will be both aesthetically pleasing and protect your home from the elements. We stay current with industry standards so that we can teach you about the importance of proper ventilation, insulation, materials, trends, warranties, and professional installation practices.
Skilled Quality Installation – Once we've decided on a scope of work and the best solutions for your roof replacement project we order the materials. We then schedule the work with our factory-trained professional installers, who will efficiently complete your project and leave your home cleaner than we found it.
Constant Communication – We believe in keeping you informed every step of the way. We keep a constant flow of communication with you before the work is done, during the project, and we will always follow-up once the work is complete. We want to ensure that everything meets and exceeds your expectations.
Warranties – Our workmanship warranty surpasses most of our competitors and gives our customers peace of mind that we stand behind our work. We are so confident in the quality of our work that we offer a non-prorated warranty for the lifetime of the shingles.
ROOF LEAKS AND THEIR UNDERLYING CAUSES
Experiencing a roof leak and need a roof evaluation?
When it is time to replace your home's roof, contact NuHome for more information on our team, our services, or to set up a free evaluation and get a quote.