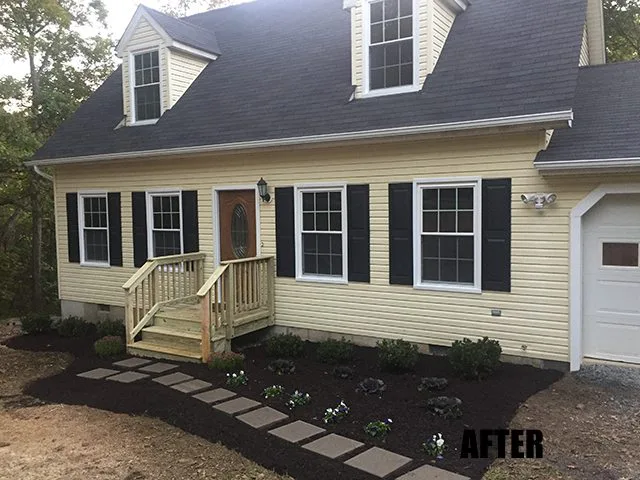 If you're looking for an inexpensive and long-lasting option for your home's exterior, that still gives it a great look, then you probably want to think about siding for the exterior of your home.  Siding picked up a bad reputation last century, but today's siding is nothing like what was being put on homes in the 70s and 80s. 
When you choose siding, you're getting a tough and durable exterior for your home which also helps reduce your energy costs.  You also have more options in types and styles than ever before!
Here are some of the most popular types of siding you might choose from.
Four Popular Types of Siding for The Exterior of Your Home
1. Horizontal Siding
Horizontal siding is the most typical and common type of home siding. It's generally considered to be an attractive option, and it's also among the cheapest and easiest forms of siding to install. Thanks to its popularity, you have a huge range of options in terms of styles, looks, and colors.
2. Vertical Siding
Vertical siding is more commonly found on businesses, but it can also be used on homes – particularly if the owner wants a more unique look. Vertical siding is a bit more costly and difficult to install than horizontal siding, due to the need to lay down an extra layer of protective material underneath. However, this does bring long-term benefits: vertical siding is more resistant to damage, and therefore also less likely to ever leak.
3. Lap Siding
Lap siding is a variation on horizontal siding, in which each individual strip of siding overlaps with the next. (Hence, "lap" siding.) When using a faux wood finish, this can create a more realistic look to the finished siding project. Also, because of this overlap, lap siding is a bit more resistant to leaks than standard horizontal siding.
4. Shingle Siding
As the name suggests, shingle siding is designed to look like singles rather than long strips of material. When it's a high-quality brand, it can make your home's exterior look like it was made from expensive wooden shingles, for a fraction of the cost. However, this look may not match with all design styles.
NuHome Has the Siding You Need
If you need siding for the exterior of your home, NuHome carries the best brands on the market with the expertise to guarantee excellent installation.  Contact us to learn more!
get a free quote today