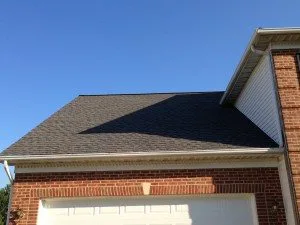 Does your roof have a large number of missing, curling, or broken shingles? Do you have water damage and leaks in your attic? Are you finding mold and mildew in your attic, or other upstairs areas?
If these are true, then there's a very good chance your Oakton home needs roof replacement. Even the best-made roofs will only last 20-30 years, regardless of how well they are maintained. Eventually, the cost of repairs will outweigh the cost of replacement, and that's when it's time to call in NuHome to replace your roof!
The Roof Replacement Specialist Oakton Trusts
Since 1998, we've been providing top-quality roofing services across Oakton, northern Virginia, and the DC metro area. Our focus on customer satisfaction and standing by our work has made us one of the top roofers in the area. As we like to say, we're not the biggest company, or the cheapest, but we're the best because we focus on your needs.
We are fully licensed, bonded, and insured. Our team is highly trained, and many of them have been with us for years despite the high level of turnover in this industry. We want the best, and we keep them on-staff. Because of this, most of our team has even earned the coveted GAF Master Elite Roofing Contractor certification – placing them among the very best the industry has to offer.
When you hire NuHome to replace your Oakton roof, you can have confidence that the job will be done promptly, at a fair price, and with exceptional workmanship.
Customizable Options Will Make Your Roof Better Than Ever
We proudly carry GAF asphalt shingles, as well as CertainTeed and Owens Corning, all great roofing material companies. This gives us a wide variety of shingle types on offer, meaning you can pick the right type, texture, and color to fit your needs and the overall look of your home.
When NuHome has finished with your roof, it won't merely be sturdy and well-built, it will have great curb appeal! Should you ever look to sell, your roof will definitely attract attention from buyers.
If your roof is falling apart, things will only get worse as it does more damage to the house below. In addition to our roofing services, we also offer windows, gutters, and door replacement solutions.
Don't wait – contact NuHome for the best in Oakton roof replacement!
ROCKVILLE ROOFING CONTRACTOR
When searching for a Rockville Roofing Contractor consider NuHome. Locally owned roofing contractor headquartered in Fairfax, VA serving serving Northern Virginia, Maryland and DC.