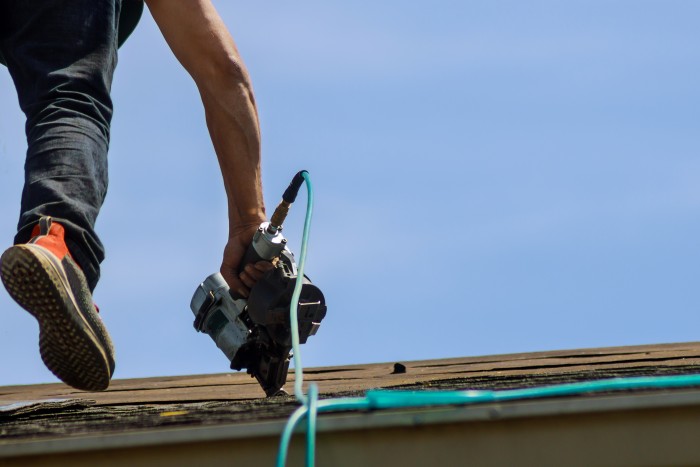 When your roof requires a repair or replacement, the thought of tackling the problem on your own may seem like the perfect way to save money. However, taking on your roof as a DIY project can pose several problems, all while sacrificing the expert knowledge and skills that professional roof replacement contractors have to offer.
Before you make a decision, it is best to have all the information. Our experienced roof replacement contractors at NuHome have provided a list of five reasons why you should hire a professional to support all your roofing needs.
Why Homeowners Should Hire a Roof Replacement Contractor
1. Protect yourself
Climbing onto your roof and working for hours on end is an extremely dangerous task. Professional roof replacement contractors have the experience and training necessary to protect themselves on the job, and the insurance to financially protect the homeowner if they do injure themselves on site.
2. Thorough inspections
Roofing contractors know what to look for during a roof replacement. If you are an amateur, you may miss an important sign of damage that requires urgent repair such as a roof leak. At NuHome, we are committed to communicating with our clients so that they are aware of any potential problems within their roof.
3. Expert recommendations
If you are planning to change the material used on your roof, it is always best to consult with an expert before committing to your decision. Roof replacement contractors work with a variety of roofing materials such as timberline and asphalt shingles, which means they can advise on the style and practicality of various options.
4. Reduced stress
Once you have started the process of repairing or replacing your roof, you may come to realize what an extensive task it really is. Homeowners can often become overwhelmed by the scale of these projects, and not know what to do when it comes to technical tasks such as working around the gutters or sealing a skylight. Working with a professional is, therefore, an excellent way to reduce stress and save time.
5. Teamwork
Performing a roof replacement is simply too much for one person to do on their own. By hiring a contracting service, you can benefit from the help of an entire team of professionals who know exactly how to produce the best result.
Contact us today to get a free quote on our services.
get a free quote today