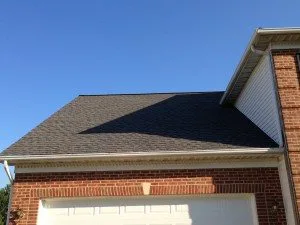 No roof lasts forever, and when it's time to replace the roof over your home, you want to know you're getting the best in materials and installation. That's why Clifton homeowners call NuHome for their roof replacement. For over twenty years, we've provided top-quality roofing services to Clifton, DC, and the northern Virginia area, with a long history of satisfied customers.
Is It Time for A New Roof?
Over time, even the best-made roof will start to break down. Shingles will break or come loose. Flashing will disconnect from the roof structure. The underlying barriers will develop holes. Past a point, repairing an older or degraded roof will be more expensive than replacing it.
Signs that your roof is ready for replacement include:
Water stains, mold, or mildew in your attic or upper floor
Moss or algae growing on the roof
Large numbers of missing, curling, or cracked tiles
Loose or rotting drywall on the upper floors
Drafts in your attic or other high areas
If these are occurring, or if you find yourself spending more and more on roof repairs, it's time for a full roof replacement in Clifton from NuHome.
Have A Master Elite Roofing Contractor on Your Side
Thanks to our many years in business, we have a high number of expert roofers on our team. Most have even earned the coveted GAF Master Elite Roofing Contractor certification, demonstrating their mastery of roofing and the GAF line of asphalt shingles. GAF is at the top of the industry, and their wide range of shingles in different textures and colors mean you'll get a finished roof that you're delighted with.
Roof replacement is dangerous work, and that's one more reason you want elite roofers handling the project. You need to be certain they can handle the project and give you a roof which will last for decades, which is what you get when you hire NuHome to handle your project.
Customer-Focused Home Remodeling Brings Great Results
We started our company in 1998 after surveying the local market and realizing how few home renovation contractors truly put the customer first. We take full responsibility for our work, with extensive warranties guaranteeing that your new roof will stand the test of time.
If your roof is falling apart, don't wait. Contact NuHome for the best in Clifton roof replacement, siding replacement, and windows, doors, and gutter services.
ROCKVILLE ROOFING CONTRACTOR
When searching for a Rockville Roofing Contractor consider NuHome. Locally owned roofing contractor headquartered in Fairfax, VA serving serving Northern Virginia, Maryland and DC.