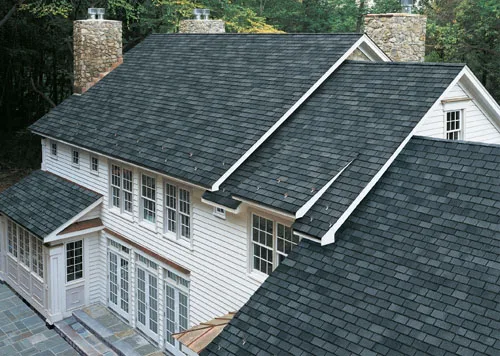 Are you thinking about choosing a new roof for your home? Even with samples, it can often be difficult to really visualize what your house will look like with a roof of a different color. Fortunately, there's a new way to look at your options – it's easy to use and fun! It's the GAF roof color visualizer.
This official GAF tool makes it simple to "try on" different roof tiles and colors, and nail down the right look for your remodeling.
How The GAF Roof Color Visualizer Works
The roof visualizer is an online web-based tool that anyone can use on a modern browser. After putting in your ZIP code, you simply upload a picture of your house, which will then be used as a basis for the virtual remodeling.
If you don't have a picture available, there's also a big library of stock images, so you should be able to find one that looks roughly like your house.
Then, there's just a simple graphical interface which allows you to swap out the roof in the image with a variety of different roof types. Beyond the roof, you can also investigate options in trim, and siding, if you're considering a more extensive renovation. It's free to use, for as long as you want, so you can spend as much time as you need experimenting with different options.
When you're done, you can even print out the results – along with a list of the products used to achieve it – to take to your local authorized GAF dealer.
A Few Tips When Using the GAF Roof Color Visualizer
Think in terms of texture along with color
The wide variety of shingles available for GAF can create a lot of different looks for your home, from rustic to colonial, to modern. For best effect, choose a shingle type that matches your architecture.
Different shingle types are better under different weather conditions. For example, if you're in an area likely to see a lot of hail or windstorms, you'd want to look at impact-resistant tiles.
Roof shingles come in a wide variety of price ranges! Keep that in mind, so you can pick a set which matches your aesthetic choices and your budget.
NuHome is a top-rated roofing specialist, serving the greater DMV area. Get your free online quote today!
get a free quote today