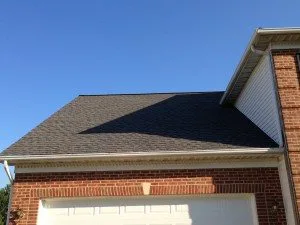 From top to bottom, you want your house to look as good as it can while providing you a safe and secure home. If it's time for upgrades, installation, or renovation, NuHome can do it in style. We're one of the best home repair contractors in the Annandale area, and we're always looking for new opportunities to delight our customers.
Live Better with Annandale Roof Replacement
Roofs are our specialty and for good reason. A home is only as secure as its roof. A house with a sturdy, well-maintained roof will be safe from the elements while seeing lower energy bills. A roof that has become weather-damaged, or has simply broken down over time, can let in rain, snow, vermin, and other elements which will damage your home and reduce your property value.
NuHome has the expertise to talk you through the entire roof replacement process. Should you use metal tiles? Asphalt shingles? Wood? There are numerous options for roofing materials, and each has its own pros and cons. We'll help you understand the long-term impact of each choice and listen to your needs as we look for the best solution.
Building a new house? NuHome can also work alongside a team of contractors to ensure your new home has a great roof that will last for decades.
Trust NuHome For Windows, Gutters, and Doors Services
Are you starting to feel drafts on your home's lower levels? Are your windows or doors squeaky or not fitting well? It might be time for an upgrade. New windows and doors will give your home a new look, while substantially improving your energy-efficiency thanks to the latest in green technology.
We'll help with your gutters as well, to ensure proper drainage throughout your home.
Create A New Look Overnight with Siding Installation
We also carry numerous top-quality brands of siding, including JamesHardie and CraneBoard, in every style and color you could ask for. A new set of siding on your exterior walls will transform your home, giving it an entirely new look, while also providing great insulation that will last for years to come!
When people in the Annandale, VA, area need home repairs or renovations, they call on NuHome. We guarantee top-notch work at reasonable prices, backed up by support throughout the life of your upgrades. Contact us today for a free consultation!
ROCKVILLE ROOFING CONTRACTOR
When searching for a Rockville Roofing Contractor consider NuHome. Locally owned roofing contractor headquartered in Fairfax, VA serving serving Northern Virginia, Maryland and DC.