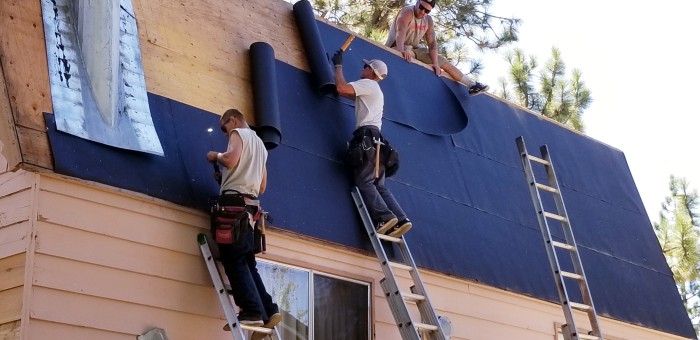 Your home's roof does much more than simply keep you protected from the elements. Home roof replacement is important for a number of reasons, which is why NuHome Exteriors specializes in residential roofing services. However, if you're not sure why having a sturdy roof is so important, or when it's time to replace it, we've collected some insight for you here!
What's the Importance of a Good Roof?
As mentioned above, having a good roof will certainly protect the interior of your home from the elements. But it will also enhance your curb appeal and increase your home value. This is because the roof is one of the first things potential homebuyers look at. A roof full of mold and mildew, or missing shingles, is not only unsightly but could serve as a red flag that there are other issues with your home on the inside.
When Should I Replace My Roof?
If you're not a roofing expert, determining when to replace your roof can often be easier said than done. However, there are some key signs to look for when it comes to investing in roof replacement. Some of the most common include:
Staining: If you notice stains on your ceiling or walls, it's a good chance that there's a leak somewhere in your roof that needs to be repaired immediately before causing structural damage.
Damaged or Missing Shingles: When your shingles are damaged or missing entirely, it's a good indicator that it's time for roof replacement. Such damage can quickly lead to other issues, like mold and mildew growth in the attic, leaks, and more costly problems.
Age: Most traditional asphalt shingle roofs will last up to 20 years. If you can't remember the last time you had your roof replaced, or you haven't had it replaced since you bought your home, it's likely time for a new one.
Light in the Attic: If you can see light in your attic through cracks in the roof, it's time to call a roof replacement contractor
Why Choose NuHome Exteriors for My Roof Replacement Services?
Since 1998, the team from NuHome Exteriors has been providing outstanding home roof replacement and repair services throughout Northern Virginia and Maryland. In addition to our outstanding commitment to customer service, we use only today's leading roofing materials. We also offer 25% off and no payments or interest until 2023 to make your new roof more affordable.
Contact us online today for more information or call (571) 200-8207.
get a free quote today