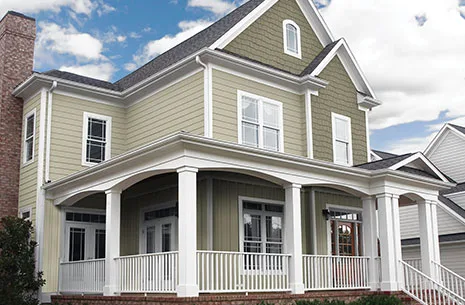 When your siding starts to chip or fade, it might be time to review your siding replacement options. But how can you determine the timeline for siding replacement? Working with our experienced experts, you can find out more information regarding each of the material options. Our team at NuHome has decades of experience and in this latest post, we'll explain more about your siding replacement options.
Wood
The aesthetic value of wood siding makes it one of the popular options for homeowners across the country. But one of the challenges of working with wood siding is that it may require replacement quicker than other products due to its potential for rotting and mold. Wood also expands and contracts throughout the year, so you'll likely have to have the area caulked around your door and window trim. Once you take these additional maintenance elements into consideration, wood siding can be a great option that might last a decade or more on your home.
Aluminum
One of the leading advantages of aluminum is its inherent strength. The material can remain in place in immaculate condition for decades. However, the important element to take into consideration is the aluminum's enamel. The baked-on enamel provides protection to the metal, but after about 15 years you'll find it naturally starts to fade. Another consideration is the denting and aesthetic issues that might impact aluminum siding areas.
Vinyl
For a low cost, high-value alternative to the traditional siding options, vinyl can be a great choice. Vinyl combines the aesthetics of wood with the performance of a much stronger material. One reason it's so popular is that it's low maintenance: vinyl siding can be easily cleaned with a garden hose. It also comes in a range of colors and styles and lasts for decades without the need for siding replacement.
Our respected team at NuHome is committed to helping you manage your siding replacement process. To learn more about our team and our expertise in siding replacement projects, call us today! You can also visit us online for a look at our other services.
get a free quote today